NEW 3rd Generation Rack-Mount RDMS™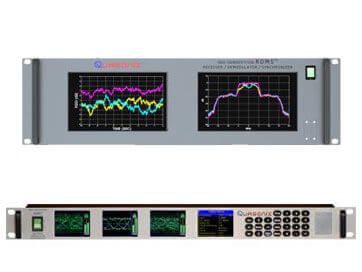 The new 3rd Generation RDMS™ with our proven 2nd Generation model. The highest performing telemetry receiver on the market is available in an elegant, compact 1U rack mount package and a new 3U touchscreen package with dual, 7-inch full color touchscreens. Configurations include one or two channels, a built-in integrated, three-channel spectrum analyzer, automatic AGC zeroing, PCM deframing (header detection/extraction, Sub-Frame ID (SFID) checking/extraction), built-in playback demodulator, combiner IF output, simultaneous TTL and RS-422 outputs, contiguous frequency tuning, adaptive equalizer, and decoding for SOQPSK Space Time Coded and Low Density Parity Check encoded signals.
Compact RDMS™
Quasonix' Multi-Mode Compact RDMS™ Telemetry Receiver features an extremely-sensitive RF downconverter integrated with the company's market-leading ARTM demodulator and bit synchronization in a compact 12 cubic inch flight-ready package. When compared to the competition, RDMS offers a remarkable 6 to 8 dB sensitivity advantage. What you choose to do with the extra link margin is up to you.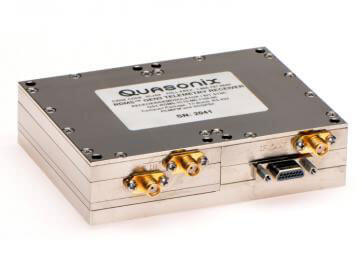 Rack-Mount Receiver Analyzer
With two complete ARTM signal generators covering 200 MHz to 2500 MHz and 4.4 GHz to 5.25 GHz contiguously and power levels from 0 dBm to –130 dBm, the Receiver Analyzer automates a wide range of receiver and combiner performance tests including bit error rate, noise figure, acquisition time and threshold, combiner break frequency, and PCM/FM modulation index tests. Eight bit error rate testers include integrated synchronization detection/timing and bit clock frequency counters.